Choose James Foster
At James Foster Elementary School, we develop aspiring leaders. We strive to produce life-long learners who are problem solvers and critical thinkers. Enrolling your child at James Foster Elementary School means you can expect to see an emphasis on character development, independence, responsibility, and communication skills in addition to academic skills. We know you'll be very happy with the educational experiences you'll find at James Foster Elementary School.
The Best Choice for Your Child's Future
Please allow us to share some of the reasons why our school is the best choice for your child's future.
Our Motivating and Highly Qualified Staff are deeply dedicated to our diverse student body and building leadership opportunities.
Our unique Student Council model cultivates shared leadership and encourages all students to think of themselves as leaders. We invite all fourth through sixth-grade students to attend student council meetings, which concentrate on building a positive school culture through special student-led activities and character assemblies.
Our Access to Technology through Chromebooks and interactive flat panels in every classroom builds leaders in digital citizenship.
Our Peace Patrol creates leaders who facilitate conflict resolution on the playground and reinforce playground expectations.
Our Recycling Program allows our primary students to be leaders as they collect water bottles at lunch and give the proceeds back to a local animal shelter.
Our Student-Run Daily Broadcast gives every student an opportunity to develop communication skills while creating and delivering engaging presentations.
Our Positive Behavior Interventions and Supports (PBIS) Expectations create a community of leaders who are respectful and focused on character development.
Awards of Recognition
It's not just our opinion; others recognize what we do at James Foster Elementary School, too! We've received awards for academic achievement, character enrichment, and more. Here's just a sampling:

PBIS Community Cares Medal
In 2020, the California PBIS Coalition recognized our school for our efforts in continued education and support to our students and families during these challenging times.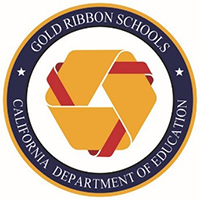 California Gold Ribbon School
In 2016, we were recognized by the state of California for our model Response to Intervention program "Read by 3," which results in reading proficiency by third grade. Teachers regularly assess students to target strengths and weaknesses in reading fluency and comprehension. Teachers collaboratively use the results of these assessments to create intervention and enrichment opportunities.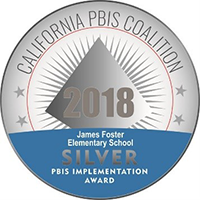 PBIS Silver Award
In 2018, The California PBIS Coalition recognized James Foster Elementary School for successful PBIS implementation at the SILVER level. Our school received this award for our efforts in implementing the core features of Positive Behavioral Interventions and Supports with fidelity.